Daniel R. Kubiak's practice areas include commercial, secured transactions, lien laws, real property, foreclosures, bankruptcy, creditors' rights, corporate and real estate law. He is a member of the Real Property Section of the State Bar of Michigan, Business Law Section of the American Bar Association, American Bankruptcy Institute, and Bankruptcy Section of the Federal Bar Association. Dan has counseled secured lenders in bankruptcy, creditors' rights, foreclosure, repossession and workout matters, and assisted clients in mergers and acquisitions, real estate and other commercial matters for over 40 years. He received his bachelor's degree from the University of Michigan and obtained his law degree from Wayne State University in 1980.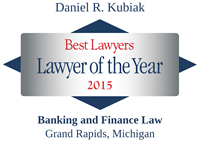 Areas of Practice
Lending & Secured Transactions
Bankruptcy Reorganizations, Restructuring & Litigation
Creditors' Rights
Construction Law & Liens
Mortgages & Foreclosure Law
Workouts
Commercial Loan Documentation
Commercial Floorplanning
Construction Liens and Contracts
Commercial/Uniform Commercial Code
Real Property Valuation
Real Estate
Mergers, Acquisitions and Divestitures
Business Formations
Environmental Real Estate
Bar Admissions
Michigan, 1980
Education
Wayne State University Law School, Detroit, Michigan, 1980, cum laude

University of Michigan
Bachelor's Degree, with distinction
Honors and Awards
Selected for inclusion in Best Lawyers
Named by Best Lawyers as Grand Rapids' 2015 Banking and Finance Lawyer of the Year
Selected for inclusion in Grand Rapids Magazine's 2019, 2020 and 2021 Top Lawyers
Professional Associations and Memberships
State Bar of Michigan, Real Property Section
Member

American Bar Association, Business Law Section
Member

Federal Bar Association, Bankruptcy Section
Member
American Bankruptcy Institute
Member
Published Articles
Lawyer Locator
Type the first characters of a lawyer's name. Click their name to view contact information and an option for additional details.
Joshua D. Beard

Joshua D. Beard

616-632-8043
jbeard@mikameyers.com

Area of Practice:

Aviation, Civil Litigation, Energy & Natural Resources, Environmental, Municipal, Tax

Elizabeth K. Bransdorfer

Elizabeth K. Bransdorfer

616-632-8029
ebransdorfer@mikameyers.com

Area of Practice:

Alternative Dispute Resolution, Civil Litigation, Colleges & Universities, Custody, Divorce, Family Law, Public Schools

James R. Brown

James R. Brown

616-632-8031
jbrown@mikameyers.com

Area of Practice:

Municipal, Real Estate

Daniel J. Broxup

Daniel J. Broxup

616-632-8059
dbroxup@mikameyers.com

Area of Practice:

Civil Litigation, Securities

Nikole L. Canute

Nikole L. Canute

616-632-8049
ncanute@mikameyers.com

Area of Practice:

Civil Litigation, Energy & Natural Resources, Labor & Employment, Securities

Dominic T. Clolinger

Dominic T. Clolinger

616-632-8045
dclolinger@mikameyers.com

Area of Practice:

Civil Litigation, Municipal, Technology & Intellectual Property Law

John M. DeVries

John M. DeVries

616-632-8012
jdevries@mikameyers.com

Area of Practice:

Civil Litigation, Energy & Natural Resources, Environmental

Douglas A. Donnell

Douglas A. Donnell

616-632-8035
ddonnell@mikameyers.com

Area of Practice:

Alternative Dispute Resolution, Civil Litigation, Environmental, Municipal

Scott E. Dwyer

Scott E. Dwyer

616-632-8033
sdwyer@mikameyers.com

Area of Practice:

Aviation, Business & Commercial, Civil Litigation, Colleges & Universities, Entity Formation, Health Care, Labor & Employment, Mergers & Acquisitions, Municipal, Public Schools, Technology & Intellectual Property Law

Bradley A. Fowler

Bradley A. Fowler

616-632-8086
bfowler@mikameyers.com

Area of Practice:

Civil Litigation, Municipal, Real Estate

Fredric N. Goldberg

Fredric N. Goldberg

616-632-8010
fgoldberg@mikameyers.com

Area of Practice:

Business & Commercial, Colleges & Universities, Entity Formation, Mergers & Acquisitions, Securities, Technology & Intellectual Property Law

John H. Gretzinger

John H. Gretzinger

616-632-8027
jgretzinger@mikameyers.com

Area of Practice:

Labor & Employment, Municipal, Public Schools

Michael C. Haines

Michael C. Haines

616-632-8013
mhaines@mikameyers.com

Area of Practice:

Energy & Natural Resources

Alexander P. Henderson

Alexander P. Henderson

231-723-8333
ahenderson@mikameyers.com

Area of Practice:

Business & Commercial, Municipal, Real Estate

William A. Horn

William A. Horn

616-632-8016
whorn@mikameyers.com

Area of Practice:

Civil Litigation, Energy & Natural Resources, Environmental, Municipal, Tax

Neil P. Jansen

Neil P. Jansen

616-632-8052
njansen@mikameyers.com

Area of Practice:

Civil Litigation, Environmental, Real Estate, Trusts & Estates

Daniel R. Kubiak

Daniel R. Kubiak

616-632-8018
dkubiak@mikameyers.com

Area of Practice:

Bankruptcy & Creditor Rights, Business & Commercial, Commercial Lending, Entity Formation, Mergers & Acquisitions, Real Estate

Kimberly M. Large

Kimberly M. Large

616-632-8024
klarge@mikameyers.com

Area of Practice:

Civil Litigation, Custody, Divorce, Family Law, Labor & Employment, Trusts & Estates

David S. Lefere

David S. Lefere

616-632-8000
dlefere@mikameyers.com

Area of Practice:

Business & Commercial, Commercial Lending, Entity Formation, Mergers & Acquisitions, Real Estate, Tax, Trusts & Estates

Ross A. Leisman

Ross A. Leisman

616-632-8017
rleisman@mikameyers.com

Area of Practice:

Automobile Accidents, Business & Commercial, Civil Litigation, Criminal Law, Municipal, Personal Injury & Wrongful Death, Real Estate

Christopher D. Matthysse

Christopher D. Matthysse

616-632-8042
cmatthysse@mikameyers.com

Area of Practice:

Trusts & Estates

Mark E. Nettleton

Mark E. Nettleton

616-632-8048
mnettleton@mikameyers.com

Area of Practice:

Municipal, Public Finance, Tax

Jennifer A. Puplava

Jennifer A. Puplava

616-632-8050
jpuplava@mikameyers.com

Area of Practice:

Business & Commercial, Civil Litigation, Technology & Intellectual Property Law

Ronald M. Redick

Ronald M. Redick

616-632-8053
rredick@mikameyers.com

Area of Practice:

Civil Litigation, Environmental, Municipal, Real Estate

George V. Saylor

George V. Saylor

231-723-8333
gsaylor@mikameyers.com

Area of Practice:

Business & Commercial, Municipal, Real Estate, Trusts & Estates

James F. Scales

James F. Scales

616-632-8047
jscales@mikameyers.com

Area of Practice:

Municipal, Real Estate, Tax, Trusts & Estates

Curtis L. Underwood

Curtis L. Underwood

616-632-8021
cunderwood@mikameyers.com

Area of Practice:

Business & Commercial, Real Estate, Trusts & Estates

Mark A. Van Allsburg

Mark A. Van Allsburg

616-632-8039
mvanallsburg@mikameyers.com

Area of Practice:

Energy & Natural Resources, Municipal, Real Estate

James K. White

James K. White

616-632-8034
jwhite@mikameyers.com

Area of Practice:

Municipal, Public Finance, Tax

Richard M. Wilson

Richard M. Wilson

231-723-8333
rwilson@mikameyers.com

Area of Practice:

Business & Commercial, Environmental, Health Care, Municipal, Real Estate

Nathaniel R. Wolf

Nathaniel R. Wolf

616-632-8046
nwolf@mikameyers.com

Area of Practice:

Alternative Dispute Resolution, Business & Commercial, Civil Litigation, Colleges & Universities, Immigration, Labor & Employment, Mergers & Acquisitions, Securities

Benjamin A. Zainea

Benjamin A. Zainea

616-632-8019
bzainea@mikameyers.com

Area of Practice:

Business & Commercial, Commercial Lending, Entity Formation, Mergers & Acquisitions, Real Estate, Tax, Technology & Intellectual Property Law, Trusts & Estates

Kathryn M. Zoller

Kathryn M. Zoller

616-632-8044
kzoller@mikameyers.com

Area of Practice:

Civil Litigation, Municipal